Disney Mickey Mouse And Friends Bowling Set
Bowling refers to a series of sports or leisure activities in which a player rolls or throws a bowling ball towards a target. It is one of the major forms of throwing sports. In pin bowling variations, the target is usually to knock over pins at the end of a lane. When all the pins are knocked down on the first roll, this is a strike. In target variations, the aim is usually to get the ball as close to a mark as possible. The pin version of bowling is often played on a flat wooden or other synthetic surface
Key Features:

Develops hand eye coordination
Bright and colorful bowling set
The ball comes with easy-insert finger holes
Specification:
Brand – Disney
Type – Bowling Set
Packing dimension – 15 x 24.5 x 20 cm 
6 bowling pin  dimension – 6 x 6 x 23.5 cm
1 ball circumference – 32 cm 
Recommended Age – 3 to 8 Years Disney Mickey
Note: The playing ball comes in different colors, the one available will be shipped to you.

Items Included in Package:
6 Bottles
1 Ball
Disney merchandising began (1929) with Disney Consumer Products and affiliates (DCP) extend the Disney brand to merchandise ranging from apparel, toys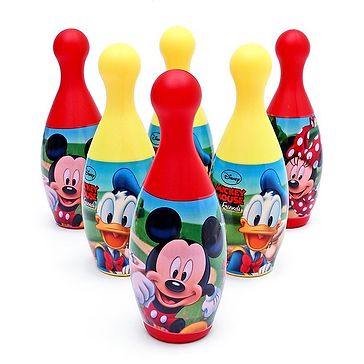 in stock
Last update was on: February 13, 2020 2:12 am
Bowling refers to a series of sports or leisure activities in which a player rolls or throws a bowling ball towards a target. It is one of the major forms of throwing sports. In pin bowling variations, the target is usually to knock over pins at the end of a lane. When all the pins are knocked...