Chinoo California Almond 250gm & Roasted Cashew 100gm
Chinoo is a premium nuts and dry fruits brand. Chinoo brings you the best and the most nutritious daily dose of healthy nuts and dryfruits. At Chinoo, we bring the taste and health together in a single pack of happiness. We believe in serving the best products to our customers and hence we travel across the world to procure the finest nuts and dry fruits. California Almond & Roasted Cashew undergo a special process. Packed in their naturally raw and carefully selected whole avatars, our California Almond & Roasted Cashew have a soft yet crunchy texture. Our California Almond & Roasted Cashew are big on health and nutrition. Chinoo California
In The Box
General
| | |
| --- | --- |
| Brand | Chinoo |
| Quantity | 350 g |
| Type | Almonds |
| Variant | Kernels |
| Container Type | Pouch |
| Model Name | California Almond 250gm & Roasted Special Cashew 100gm (Pack of 2) |
| Combo | Yes |
| Maximum Shelf Life | 6 Months |
| Organic | No |
| Added Preservatives | No |
| Gift Pack | No |
| Country of Manufacture | United States |
| Manufactured By | RCA Exim Pvt. Ltd. |
Dimensions
| | |
| --- | --- |
| Height | 14 cm |
| Width | 10 cm |
| Depth | 3 cm |
| Weight | 0.35 kg |
Important Note
Product information provided by the seller on the Website is not exhaustive, please read the label on the physical product carefully for complete information provided by the manufacturer. For additional information, please contact the manufacturer.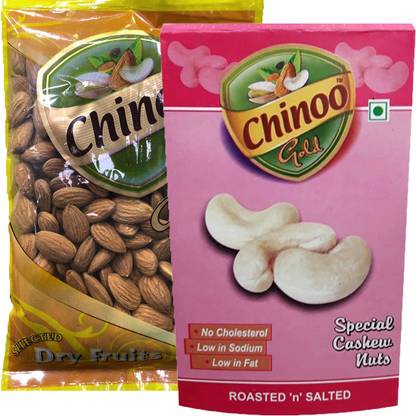 -32%
in stock
Last update was on: September 19, 2019 2:05 pm
Chinoo is a premium nuts and dry fruits brand. Chinoo brings you the best and the most nutritious daily dose of healthy nuts and dryfruits. At Chinoo, we bring the taste and health together in a single pack of happiness. We believe in serving the best products to our customers and hence we travel...